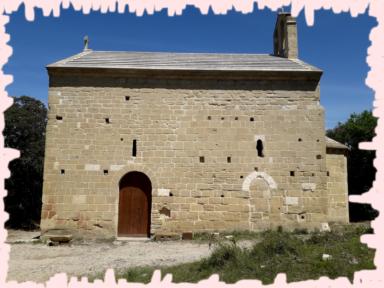 It is located north side of Calès. Cross the circus Calès, exit through the north wall, follow the path calade and over 800 metres.
Built around 1150 on the side of a place of worship or burial oldest (seated sixth century discovered during surveys in 1996), it belonged to the chapter of Notre-Dame-des-Doms d'avignon -bubble pope Adrian IV (24.04.1155)- and was called Saint Marcellin.
Beautiful whole Romance, it did while a central nave covered by a roof tile Romance and a semi-circular apse.
Restored to the end of the fifteenth by the family of De Roux of Lamanon, it was elevated and then covered with a roof of roofing. It was also extended by the construction, in the north, a small Gothic chapel consecrated to Saint-Denis.
By extention, the entire structure will now be know as "Chapel Saint-Denis". Other restorations will take place in the eighteenth and nineteenth centuries.



The Chapel is protected and respected until the last war. It then suffered by several acts of vandalism, the burial are desecreted and vandalized the altar, stones and tiles removed, excavated soil.
Three compaigns of restoration over 10 years (1989 to 1999) can save this architectural and cultural jewel (cost: 93 000€). In 1989: outside; in 1996: inside; in 1999: pourring a concrete slab lean, laying grids, reconstitution of the altar...
In 1996, when polls after work, discovery of many objects, including a bone comb to the sixth century, displayed now in the museum of Calès.
The association Calès Saint-Denis has arranged: benches, information boards, and organizes an annual free concert in May. It opens to the public on the first sunday of April, May and June and during heritage day. For more information: 06.76.51.76.22.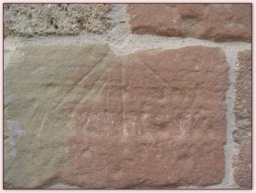 From the ninth century, the venerable Bède, in England, describes sundials canonical used in monasteries to call the monks to prayer and work. From the eleventh to fifteenth century, in France the dials are everywhere in abbeys, chapters cathedrals, dependencies and college. They are engraved in general on the south wall of churches.
At the Chapel of Saint-Denis, three dials are listed. The fact that there are several on the same church simply indicates that they are not comtemporaries: they range in time. The lines indicate extreme hours 6 am on the left to 6 pm on the right. All times are listed intermediaries following the need to chalk. The dial canonial is the blueprint of parish life.
From the fifteehth century, sundials become moree closely linked to the custom: they leave churches and are on public buildings and houses.
The time in the Middle Ages: the day dawn to sunset was divided into 12 equal hours. Accordingly, the summer hours were much longer than the winter hours: 80 minutes at Saint-Jean summer, the equinoxes 60 minutes, 41 minutes at Christmas.
Between 1277 and 1300, the clock was invented. It will gradually replace the sundial.