THE RELICS OF THE FEUDAL CASTLE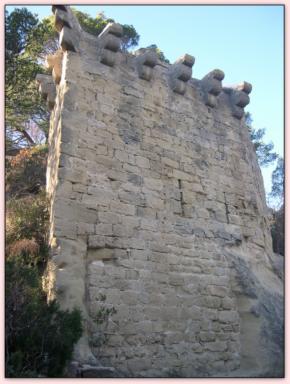 In 208 m of altitude, the feudal castle was constructed on a rocky piton which dominates the lowland of Durance in the north and, in the south, Crau. It stands in about 25 m above the circus. For the West angle the relics of this strengthened group remain hung on the abrupt cliffs being of use themselves of natural bulwarks.

The south door (at the beginning of XIIIth century) is remarkable for its eight ravens and his machicolation.

The castle was constructed at the end of the XIIth century, by Pons de Brugérias, Catalan lord and new lord of Alamanon.
Its lineage, from its too sons, Pons d' Alamanon, lord of Complaints, and Bertrand d' Alamanon, lord and troubadour, will become famous in the history of Provence until XVIIth century. Some in military art, others in the priesthood.

In XVth century, other families will form a friendship with the Alamanon family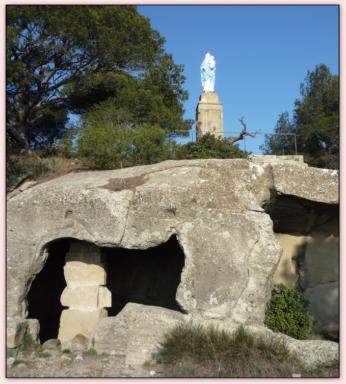 The castle was done up to resist.
Place of shelter at the time of " Big Companies " (second half of the XIVth century), it was renowned impregnable.
During the wars of Religion, in 1586, the Protestants, weakened by the success of the Catholics driven by Hubert de Vins, ask for assistance their brothers of Languedoc who send them bands of pillaging mercenaries to get rid of it.
Among these bands is that of Cartier, native of Alleins, which, stalked in its turn by Hubert de Vins, comes to take refuge with his company of mercenaries in the unoccupied castle.
In spite of the reinforcement of the cannons of the castle of Empéri, after a month of seat, Hubert de Vins could take possession of it thanks to the treason of a first lieutenant of the company of Cartier.
The castle was almost entirely destroyed on its orders on August 13th and 14th, 1586.

There were no more people to Calès.
The satute of the Virgin and Child was built in 1866 by the Marqis de Panisse-Passis on the location of the dungeon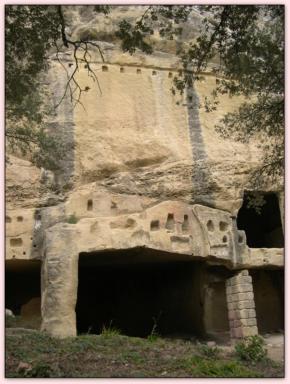 CAVES



Le cirque de Calès enserre 58 grottes sur les 116 recensées, creusées dans une roche tendre (safre) ; il est fermé au sud et au nord par deux enceintes. Ces grottes creusées par l'homme pour extraire les blocs de pierre nécessaires à la construction du château ont été transformées en habitations troglodytiques jusqu'en 1586. Nous savons par les feux de queste que 150 à 200 villageois vivaient là vers 1245.

Ces grottes, dont les aménagements étaient prédéfinis, sont le résultat d'un creusement par des carriers qualifiés.

Ces habitations étaient complétées par une avancée en bois, dont on peut voir encore l'emplacement des poutres au-dessous des gouttières creusées dans le rocher. Ces dernières ou "larmiers" servaient à récupérer les eaux de ruissellement, d'une part, et, d'autre part, à protéger ces avancées. De nombreux aménagements intérieurs ont été réalisés: niches, anneaux de suspension, silos...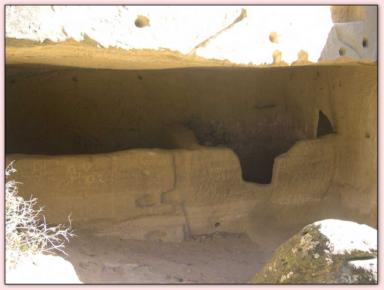 There were caves of house and food caves.
Here opposite, an example of cave to alimentair
It was dug by leaving sections necessary for envisaged development: they were not brought back.
The party of left, with rings of suspension in the ceiling, had to serve for stocking grain.
On that of right, you can see still traces of lime serving for waterproofing it and a hole of emptying down.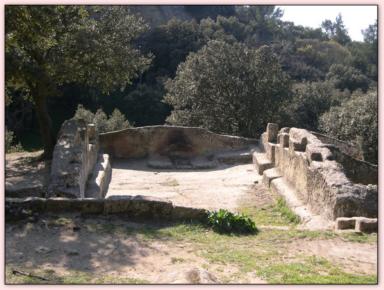 THE COMMUNITY ROOM





This room, nowadays roofless, dug on a rocky group, was vaulted: they notice the traces of building in of the ancient pillars.
They can see four rooms of small size, north side.
Room with social vocation: deliberation of the community, place of justice, it includes six troglodytiques houses on its foundation. It measures 10 m about on 5 m but is not rectangular.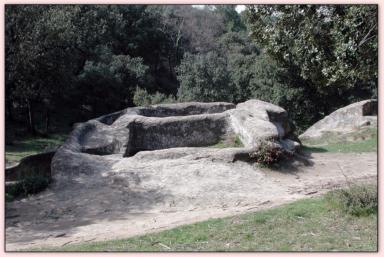 THE BLOCK OF VATS


 



Ce bloc des cuves est composé de deux grandes cuves chacune communiquant par un petit orifice  avec un petit bac de décantation.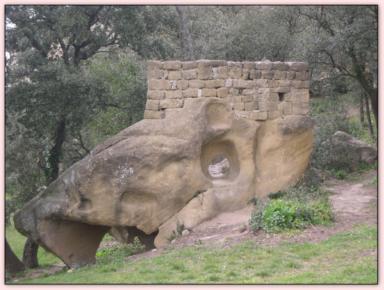 LA REDOUTE



Rocky block broken in two. The party still in place is overcome of a low wall which supported a roof. The slaughtered party consists of a step and a door with its rabbet. This protected building should probably act as reservation of food or as store of valuable things.